Discover 8 best guesthouses & homestays in Meo Vac with Chung Pua Blog. Each of the accommodations listed below have accurate contact information so you can book directly with them.
Meo Vac is a small town on the Ha Giang Loop known for its stunning views of Ma Pi Leng, the Nho Que River, and the Khau Vai Festival. It's also home to the largest ethnic market in the region, which is open every Sunday morning, making it a popular destination for travelers. This article will explore some of the top places to stay in Meo Vac.
Table of Contents
Best guesthouses & homestays in Meo Vac:
1. Chúng Pủa – Auberge De Meo Vac – Mountain Lodge.
Address: Nhà Nghỉ Chúng Pủa, Chúng Pả A, tt Mèo Vạc, Hà Giang
Room rates at Chúng Pủa – Auberge de Meo Vac: 1,320,000VND for a private room and 330,000VND/person for a dormitory room.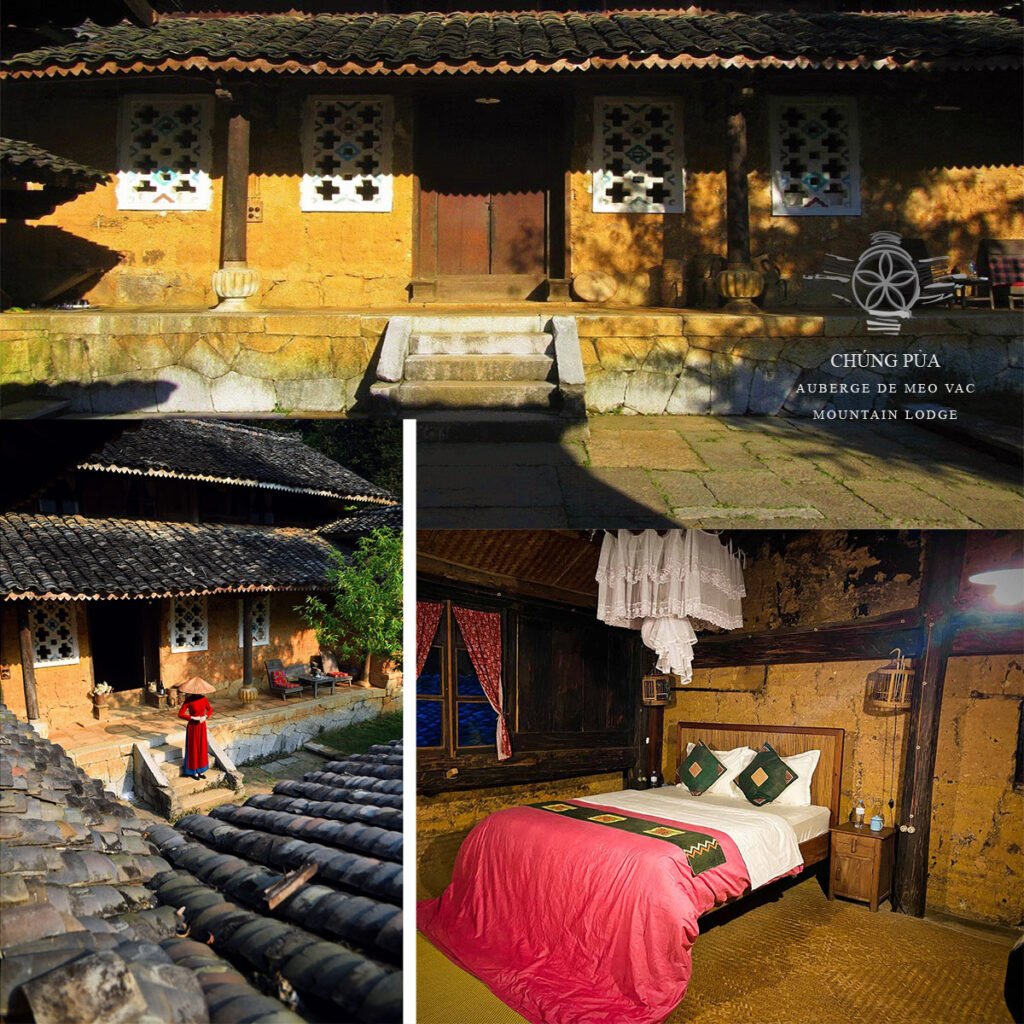 About Auberge de Meo Vac Guesthouse
This place was built from an old H'Mong house that had stood for over 100 years and had sheltered the local people. Now it has been renovated into a guesthouse. The space here is very beautiful with warm yellow tones of the rammed earth walls and a green garden with famous flowers of the highland such as plum, peach, pear, and ancient rose.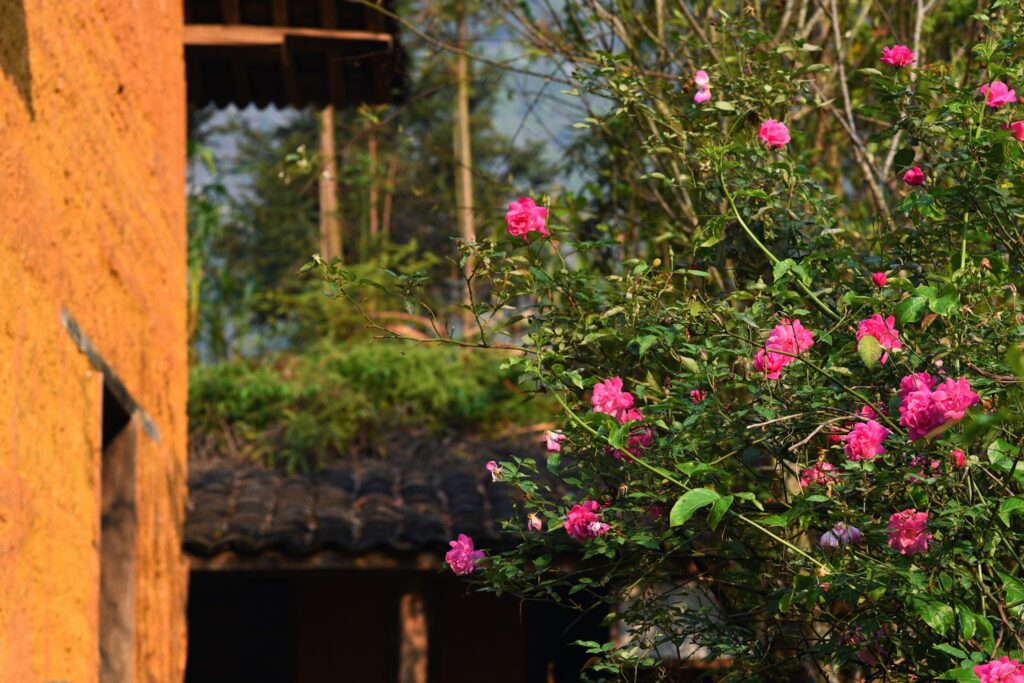 Highlight of the Guesthouse
The guesthouse is conveniently located to reach famous destinations such as Sunday Market, Ma Pi Leng Pass, Nho Que River, Khau Vai boat station, and Khau Vai love market. In addition to the beauty inherited from the ethnic identity, tourists can also enjoy great experiences such as camping, trekking, and H'Mong cultural performances.
Get Directions via Google Map
Chung Pua – Auberge de Meo Vac also serves dinner with traditional family meals and breakfast with Western food (at an extra cost). Tourists can enjoy delicious and traditional local dishes here.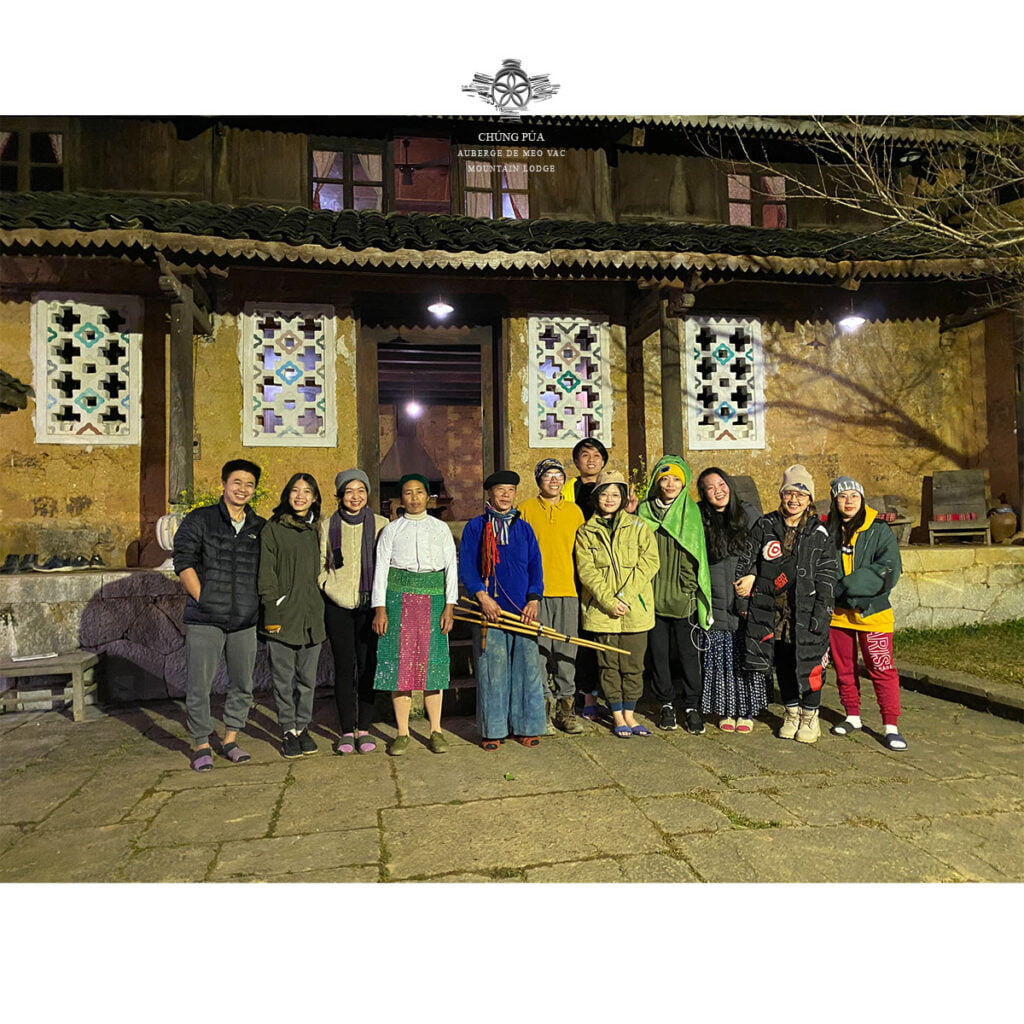 2. Lô Lô Homestay & Cafe Meo Vac.
Address: Lô Lô Cultural House, Sang Pa A, Meo Vac town.
Reference room rate: 400,000VND/night
Facebook/Website: Lo Lo Homestay & Coffee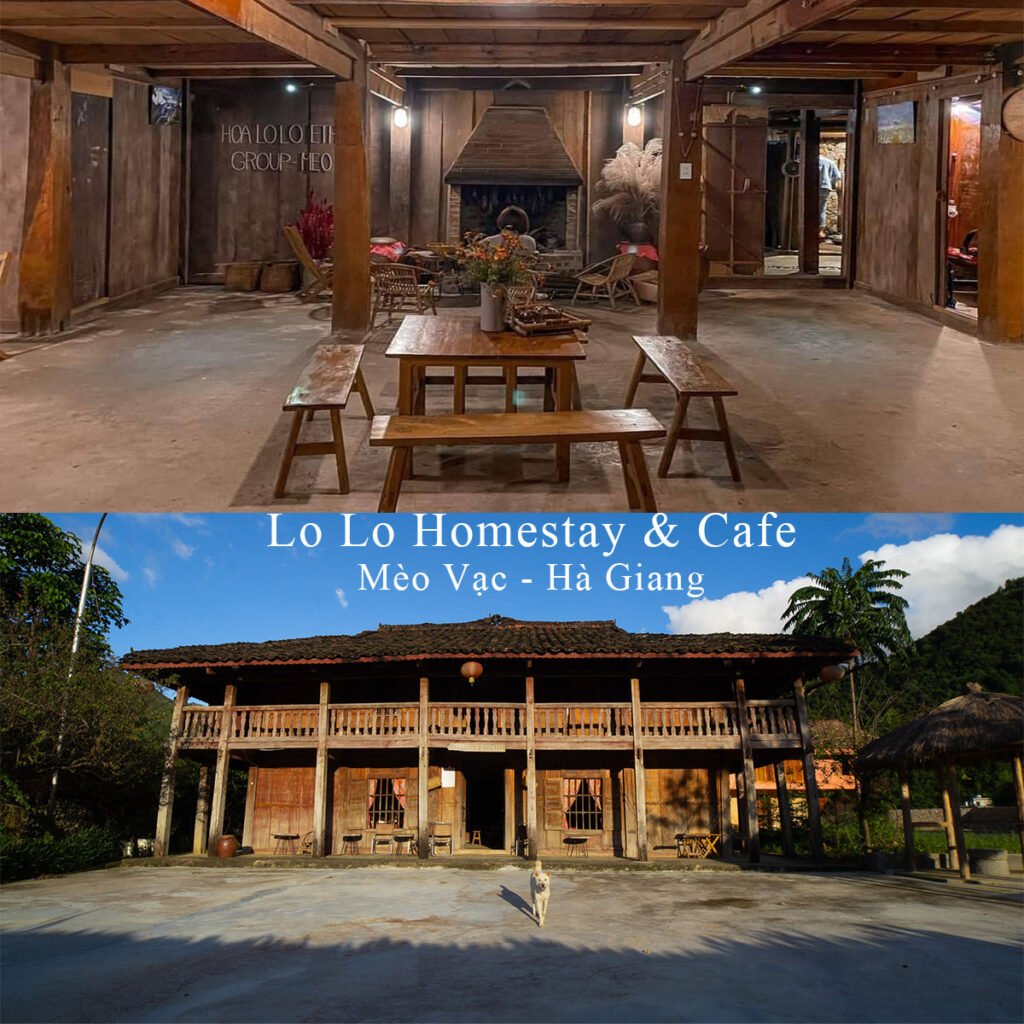 About Meo Vac Homestay – Lô Lô
This homestay has an architecture of a wooden stilt house, with a prime location overlooking the mountains, a spacious garden, and especially here you can learn about the Lô Lô ethnic culture; through the skirts that people in the village teach each other how to embroider. Or the rain praying festival is held annually.
Highlight of the Homestay
The space here is spacious, and the roses are extremely well cared for.

– Chúng Pủa Blog

The homestay has 2 types of rooms: dormitory and private rooms, with room rates ranging from 400,000 to 600,000 VND. You can also order dinner here by contacting the managers here or messaging them on Facebook.
3. Homestay Meo Vac Clayhouse.
Address: B8 Mong Ethnic Community Cultural Village – Pa Vi – Meo Vac, Ha Giang
Reference room rate: 800,000VND/night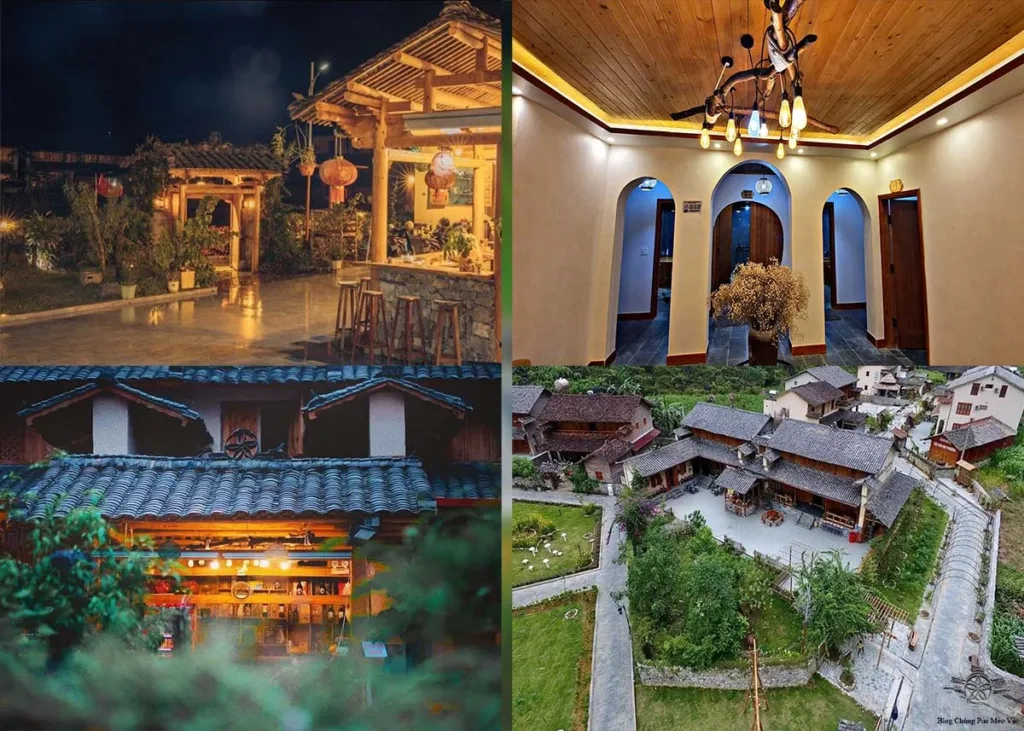 About Meo Vac Clay House Homestay
Meo Vac Clay House Homestay is a popular accommodation in the village of Pa Vi, a gathering place of distinctive homestay architecture. Here, guests can both relax and enjoy the magnificent natural scenery of the highlands. With complete facilities, Clay House Hotel brings a new breeze to those seeking a long journey with comfort in living.
Highlights of the Hotel
The location of Pa Vi H'Mong Village is very special, right at the foot of Ma Pi Leng Pass and the road down to Nho Que River, making it extremely convenient to travel and explore Meo Vac.
The first impression that catches the eyes of tourists is the spacious garden, decorated with warm light. With a large scale and many room types, Clay House is an ideal destination for many tourists who want to explore and enjoy Meo Vac.
4. Homestay Meo Vac Valley
Address: House A5, Area A, Meo Vac Mong Ethnic Community Cultural Village, Ha Giang
Reference room rate: 300,000 VND/night
About Meo Vac Valley Homestay
Meo Vac Valley – A beautiful house in the Mong Ethnic Cultural Village

Homestay Valley
Highlight of Meo Vac Valley Homestay
With a cute and friendly space with nature, this place is a memorable point in the cultural village. The guest rooms are fully equipped, with enclosed bathrooms. And especially the mountain view is extremely impressive.
5. Thao Gia Homestay.
Address: 597X+J8V, DT182, Ta Lung, Meo Vac, Ha Giang
Google map Directions
Phone: 039 680 3916
Reference room rate: 600,000 VND/night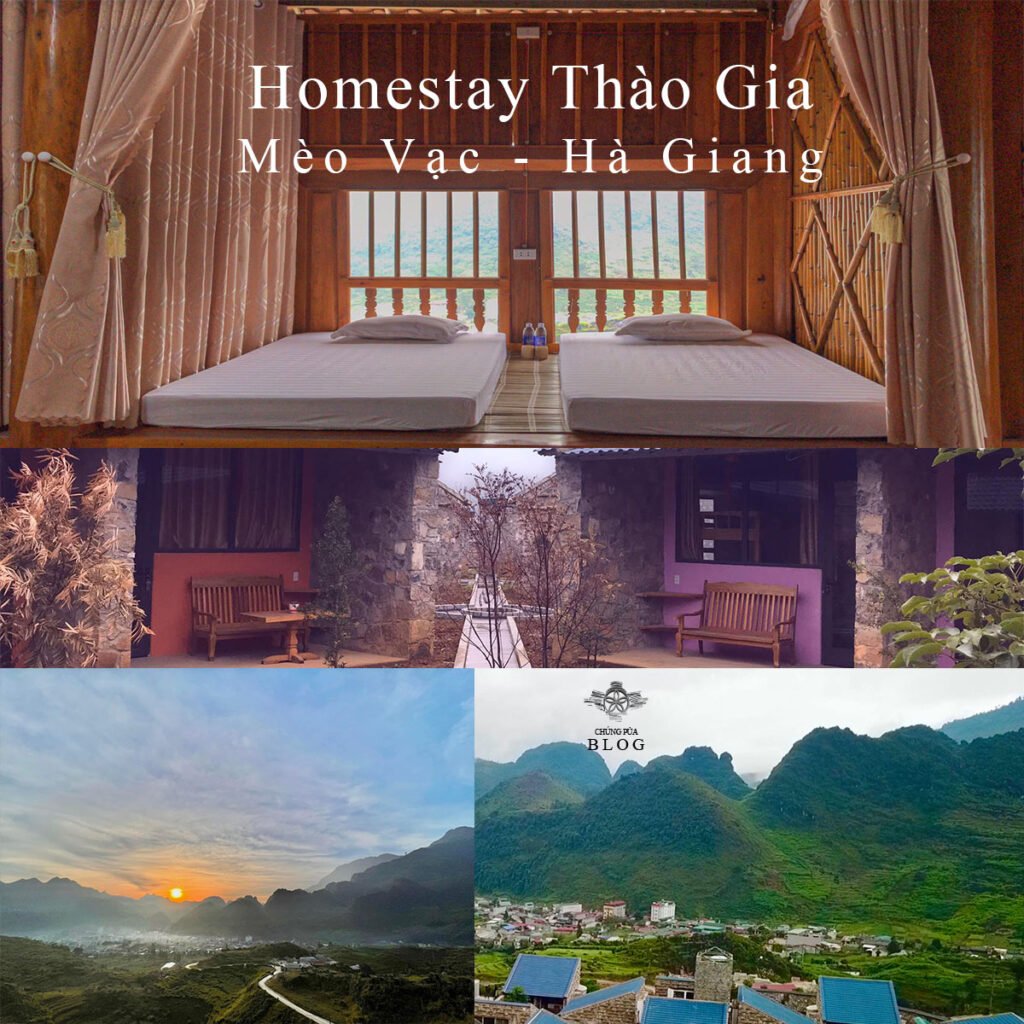 About Thao Gia Homestay
Located on the way back to Ha Giang city, this is a complex of many guest rooms along with a rooftop coffee shop. The guest rooms are built from limestone and integrated with enclosed bathrooms, which are very convenient.
Highlight of the Homestay
The space at Thao Gia is very beautiful, especially with a panoramic view of Meo Vac town. From the coffee drinking position, you can admire the sunset, very chill and not inferior to Da Lat.
In addition, the courtyard is also carefully cared for with many flowers, green paths with grass in the summer. It gives a very peaceful feeling in this wild mountainous area.
6. ZoongXia Sang Pua Homestay & Coffee
Address: ZoongXia Sảng Pủa Homestay, Sang Pa A village, Meo Vac town, Ha Giang
Facebook/website:
Reference room rate: 300,000VND
About Homestay
The name ZoongXia Sảng Pủa in H'Mong means "thank you," "kind." This is one of the newest accommodations in Meo Vac district, but the homestay has been very successful in serving customers.
Highlights of ZoongXia Sang Pua
Here, in addition to resting in the community room, you can enjoy the beautiful outdoor space. With modern lights leading the way to a spacious garden, equipped with cute dining tables.
This place serves good drinks, with friendly and enthusiastic staff. The location of the homestay is also very convenient, close to the center of Meo Vac district.
7. Vivi Homestay Mèo Vạc
Địa chỉ: số A6 làng H'Mong Pả Vi, Mèo Vạc, Hà Giang
Giá phòng tham khảo: 500,000VNĐ
Đặt Phòng: 0862660009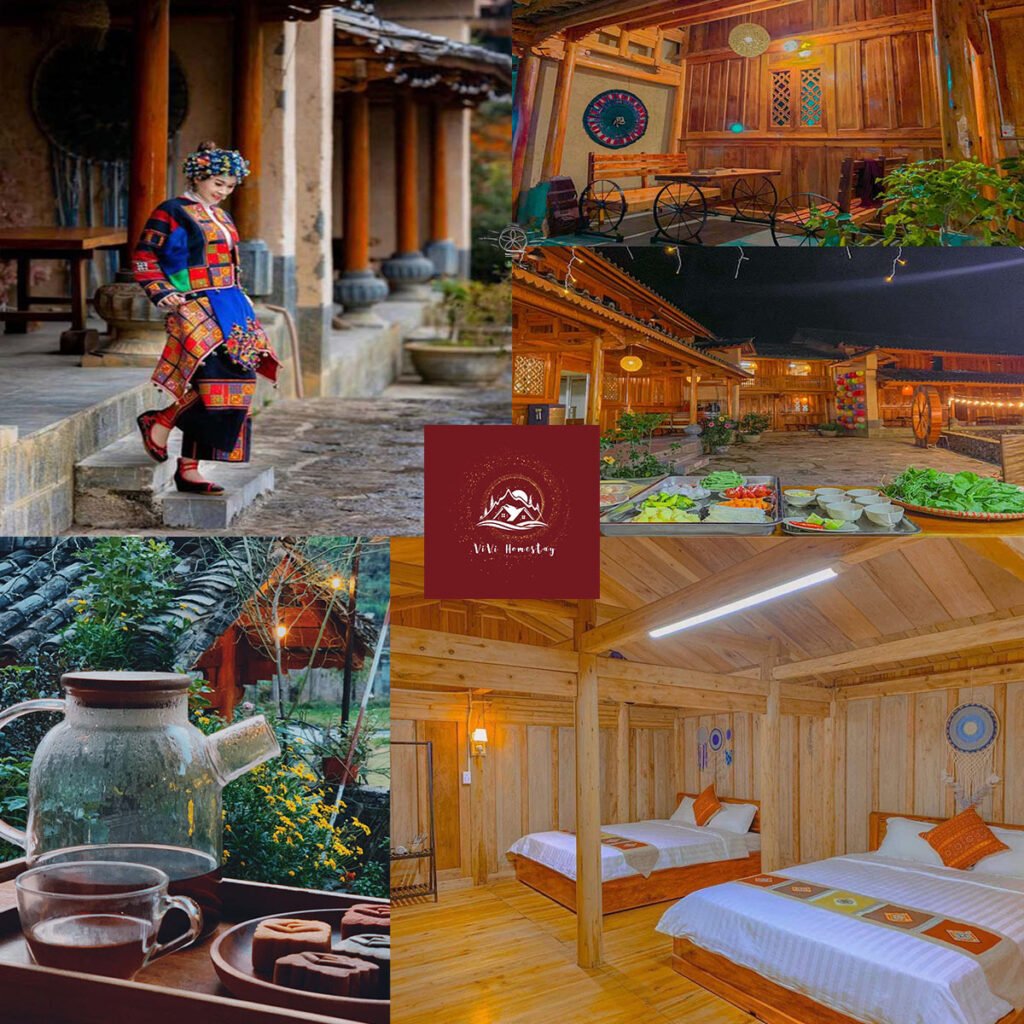 About Homestay
As one of the lodgings that receives a lot of support from guests staying in the H'Mong cultural village of Pa Vi lower. With a cozy and unique space, the rooms are fully equipped and the service is enthusiastic.
Highlight of Vivi Homestay
Here you can easily book other services. In addition, the location of the village is very convenient for boat trips on the Nho Que River. The food is quite delicious, you can choose to eat hotpot, grilled dishes, and enjoy some local dishes such as men men, lap suon,…
8. Giac Xua Homestay Meo Vac
Address: House number 43, group 1, Meo Vac town, Ha Giang
Reference room rate: 350,000VND
Booking: 0335728959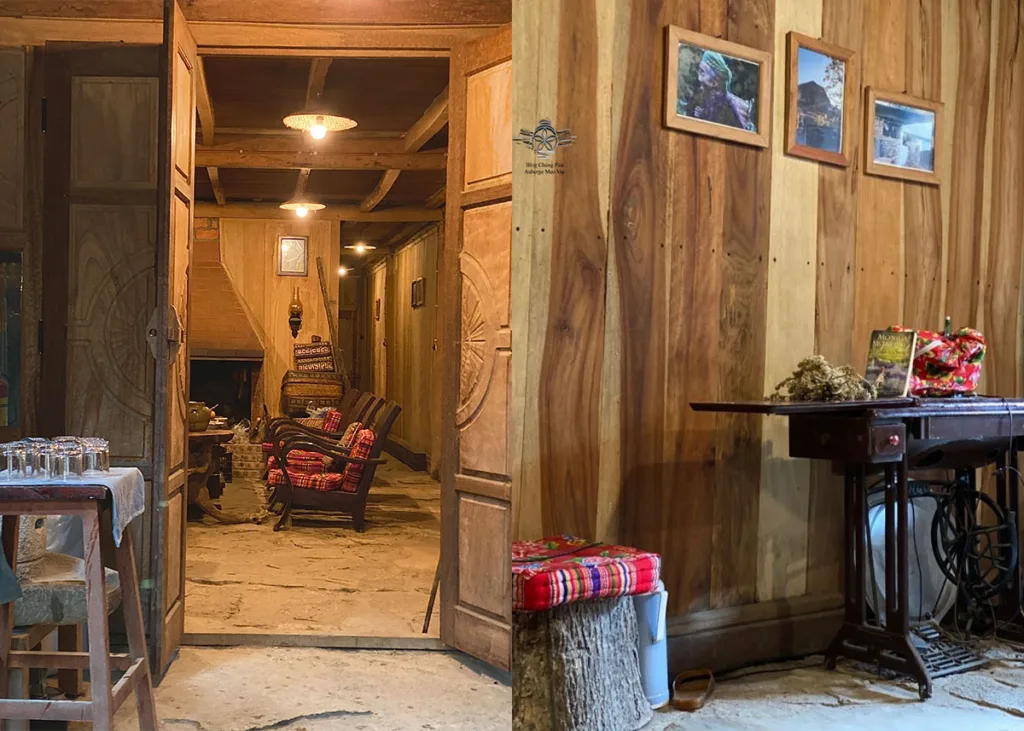 About Homestay
This is a wooden stilt house homestay located 500m away from Meo Vac district stadium, with a cute and cozy space.
Highlight of Giac Xua Homestay
A beautiful flower trellis in front of the house, a fireplace in the middle of the living room, and all guest rooms are equipped with standard hotel beds. One of the rare homestays near the center, cheap and with standard amenities.
However, Giac Xua has a downside, the space is quite small, the wooden floor on the second floor makes noise when walking, and there is termite damage.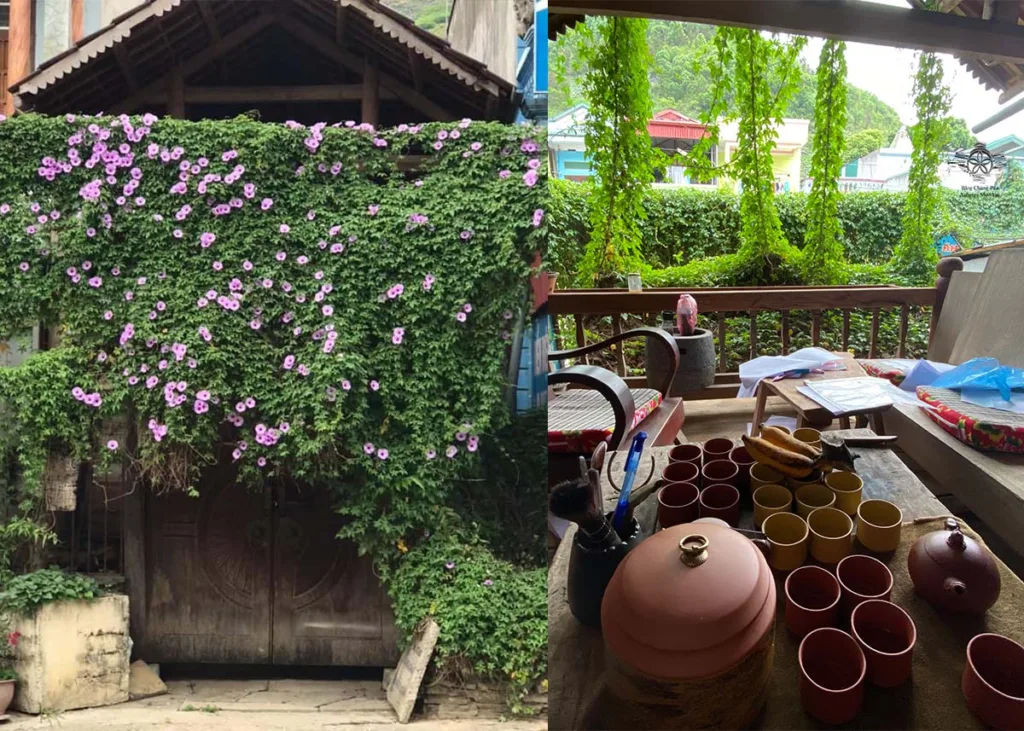 Conclusion
All the homestays/guesthouses in Meo Vac are beautiful and convenient for exploring Ha Giang. Choose the accommodation that suits you in terms of price, location, and personal travel needs. Thank you for reading the article on Chúng Pủa Blog.